Commercial Janitorial Services
Carolina Kwik Dry is one of the premier carpet and floor cleaning businesses in the Midlands of South Carolina.
Professional Janitorial Services
If you own your own business, you probably know how difficult it is to keep your office building or storefront clean. For many small business owners in the Columbia and outlying areas, janitors often have to come into a business after hours to clean stores and offices from top to bottom, all the while being discreet.
With that in mind, you and your staff can rest assured we will work to make sure that everything is cleaned to your satisfaction, with as little disruption as possible.
At Carolina Kwik Dry, we are a professional business cleaning company dedicated to providing excellent service to all of our customers, and that includes all the commercial businesses that require our janitorial services. We know that every business has its own cleaning needs, and we will do our best to cater our business to your facility's needs. No matter what you need, from
Vacuuming carpets, furniture, and other upholstery.
Mopping floors in heavily trafficked areas.
Cleaning tile, grout, and other hard-to-finish surfaces.
Sanitizing bathrooms and cooking areas.
Taking out trash and other rubbish from centralized locations or offices.
And more! Businesses in the Columbia, Blythewood, or Elgin areas can trust Carolina Kwik Dry with all their cleaning needs. We are a local office cleaning company that can also handle large and involved deep cleans. Just let us know what you need.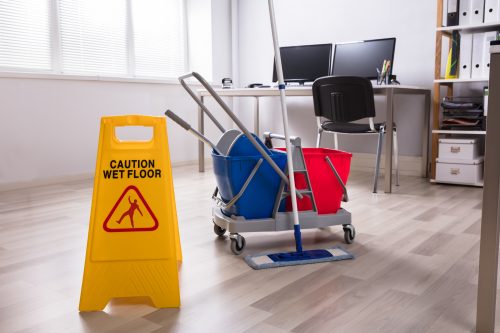 When it comes to your business, don't assume that it will just keep itself clean. Businesses attract dirt and dust just like any other building… even more so, considering that many more people use it on a daily basis. And if you run a customer-facing operation with a storefront, waiting rooms, or other public areas, then just assume that it will get that much more messy. And once it is messy, customers and employees will notice.
Carolina Kwik Dry is a professional janitorial service company located in Columbia, SC. We cater our services to fit your business, and whatever your business needs to keep itself clean and inviting. We can do anything from vacuuming carpeted floors to deep cleaning tile and grout floors. We also offer emergency cleaning services should you need them.
Above all else, Carolina Kwik Dry places a priority on excellent customer service. We are fully committed to our work, and we offer a 100 percent guarantee to all of our customers. So if you are looking for a Columbia, SC professional janitorial service company that knows the needs of your Midlands Business, then call us for more information about our janitorial services.
Don't Wait Any Longer. Contact Carolina Kwik Dry Today!