Carolina Kwik Dry is one of the premier carpet and floor cleaning businesses in the Midlands of South Carolina.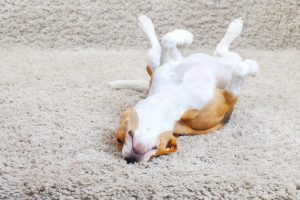 We all love our pets. But that doesn't mean that they don't have accidents sometimes. Without the proper care or treatment, these accidents become long-term issues that cause unsightly stains and even less-inviting smells.
But what about pets causes all that mess? Well, it's a few obvious things, and a few things you may have not thought of before:
Urine
Feces
Tracked-in dirt
Oil and dander
A pet's hair, skin, and dander can carry or support bacteria that cause unpleasant odors. So, it isn't the case that you can just spray a deodorizer to get rid of pet smell. You must get rid of all the particles and organisms that cause the smell in the first place.
We assume that you aren't looking forward to cleaning dog urine from your carpet. That's why you need to call Carolina Kwik Dry anytime your family friend has an accident. A benefit of pet stain and odor removal is that you will have a fresh scent in your home, while mitigating future smells that might linger over time. Quick cleaning can also remove some of the allergens that are present that can impact the respiratory health of your family. Removing pet stains also prolongs the life of your flooring by removing potentially corrosive or acidic materials from the fabric.
And it isn't easy to remove cat urine and get "dog smell" out of your carpet. So when it comes to removing pet odor, take these steps:
Bathe your pets on a regular basis.
Brush out loose hair and dander from your pets daily.
Get a professional pet odor removal service that specializes in upholstery and carpets.
Technicians who work for Carolina Kwik Dry are experienced in pet stain and odor removal. They are professional in how they treat customers when they arrive for the appointment and will work to ensure that the home is left as it was found. Equipment that is used is superior and safe for all floor types and materials.
Professional Pet Odor Removal Service in Columbia, SC
Our family-owned business offers exceptional customer service from the time you call to make an appointment with Carolina Kwik Dry. We provide accurate estimates and consult with you so we can answer any question you might have. Our staff will work to determine a time that is convenient for you to come to your home to perform the services requested.
Carolina Kwik Dry wants our customers in Rosewood, Woodcreek Farms, and surrounding Columbia to receive the carpet cleaning services that they deserve on a professional level. We are a local business rooted in the Columba area, and we treat our customers like neighbors, friends, and family.
Don't Wait Any Longer. Contact Carolina Kwik Dry Today!